VickyJ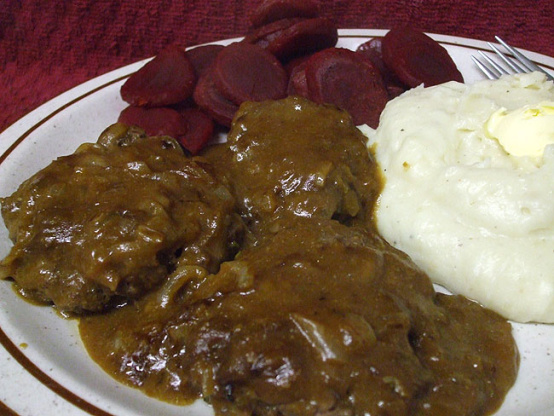 This is a very popular Danish dish. It goes well with new nugget potatoes and pickled beets. You can add other spices to the patties ( eg Mace) but they are really good plain so you can savour the beef and onion flavors.

DH said he was hungry for hamburger steak with onions and this one looked good. I did make a couple of changes. I added a little worchestershire sauce, cajun seasoning and seasoned italian bread crumbs to the meat and made 3 good sized patties. I used about 3 tbsp of butter to saute the onions which were sprinkled with cajun seasoning. Once they were soft I simply removed them and set aside and then added a couple of tbsp more of butter and fried the patiies for 8 minutes on each side. I then removed them and added a few tbsp of flour to pan and made a light brown roux. I then added the patties, onions, 2 cups of brown gravy (I used a dry mix) and another cup of water to the roux mixture. I covered the pan and brought the gravy to a simmer and cooked for another 15 minutes. DH baked a potato and we split it in half and served the hamburger patty with the onions on top of the potato. Simple, quick and delicious.
Fry the onions in 2 oz of butter until they are turning brown.
Add the water and continue cooking until it has evaporated.
Remove onions and keep them warm.
Shape the beef into round flat hamburgers (about 1" thick) and dip into seasoned flour.
Melt remaining butter and fry the hamburgers flipping once.
The hamburgers should be crispy brown on the outside.
,about 7 min each side.
Arrange cooked hamburgers on a platter, cover with the onions, keep warm.
Pour stock into the fry pan and bring to a boil, add salt& pepper to your taste.
Serve with the hamburgers.