rpgaymer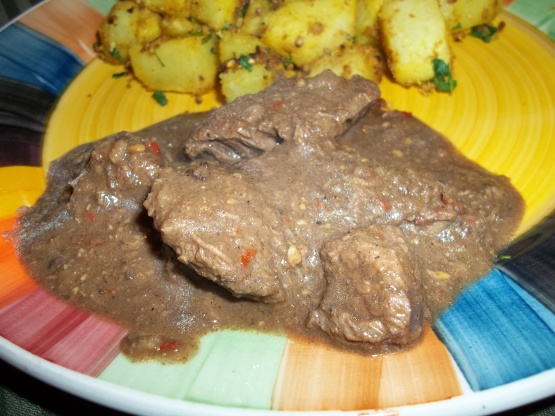 A lovely, warming, spicy curry to enjoy in the colder months of the year. I serve this up over plain, boiled potatoes, or a rice pilaf.

i used 2 1/3 lbs lamb, and followed directions to a t, then cooled and refrigerated for the next day. and i am so glad i did! there was a thick layer of fat atop which was easily removed, practically in 1 piece, and the flavor was concentrated,just so pungent and tasty. the lamb literally melted in our mouths. i served this over basmati rice, wonderful main course!
Grind coriander, cumin, cloves, cinnamon, peppercorns, fenugreek and fennel to a fine powder.
Grind chilies with garlic, onion and ginger to make a paste.
Mix spice powder with vinegar.
Place meat in container and rub well with spice mixture.
Pour chili paste over meat and marinate for atleast 3 hours, or overnight.
Over high heat, heat ghee or butter in large heavy-bottom Dutch oven and fry meat until deeply colored.
Add bay leaves and stock and bring to a boil.
Reduce heat and simmer about 1 1/2- 2 hours, or until meat is very tender.
Season to taste.
This is one of those dishes that taste better the next day so, if time permits, keep that in mind.