Annacia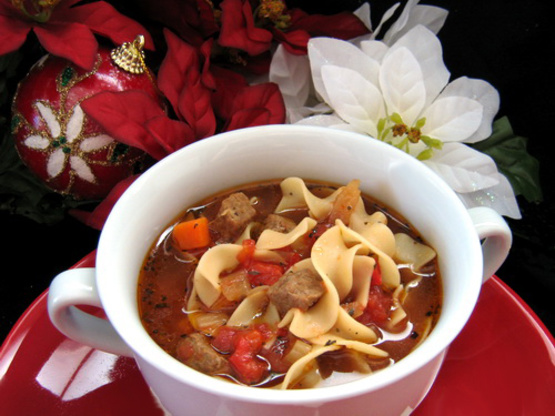 This is a recipe I came up with after having leftover roast and gravy. I often use meat from leftover roast, but of course, you don't have to. It just makes it a little quicker to put together if you do! So substitute as you feel necessary with whatever beef you have on hand! This could also be made in the crockpot after sauteeing the meat and veggies. Just add the noodles to the crockpot about 30 minutes before the soup is done. I just made this for dinner tonight and I want to tell you it is so delicious. I wanted to eat more but. could not fit in anymore. I used left over roast and potatoes since they were soaked in roast juice. JUST AWESOME!!!!!!!!!!!!
In large stockpot over medium high heat, saute the stew meat, onion, celery, green pepper, garlic and carrots in butter for 5 minutes, or until meat is browned on all sides.
Or if using leftover roast, saute until vegetables are tender.
Stir in the bouillon, cabbage, remaining seasonings, beef broth, tomato juice and diced tomatoes.
Bring to a boil, reduce heat to low, cover partially, and simmer for 45 minutes.
Add noodles and simmer for another 20 minutes.
Discard bay leaves before serving.