Parsley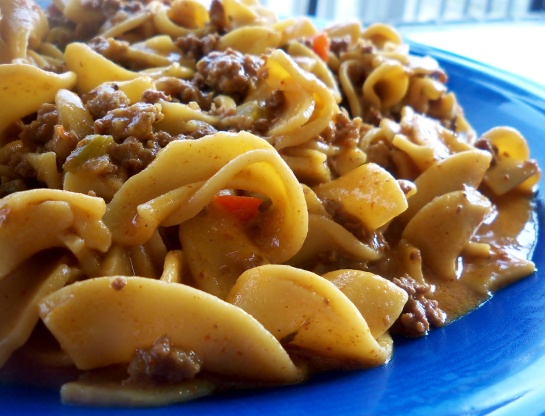 In this recipe the noodles cook in the same pot as the sauce, making it easy and quick.

Great dish and a new twist on the well known "Chicken Paprikash"; economical and quick to prepare and cook. I used low fat sour cream and used 1 1/2 lb beef. I served this with steamed broccoli and warm bread. My DH had 2 big helpings and I still have enough leftover to send with him for dinner tommorrow night. Another great recipe from Inez!
In dutch oven, brown beef with garlic, onions, and green pepper.
Cook and stir until beef is done, drain off excess fat.
Stir in paprika and thyme.
Add broth and noodles; bring to a boil.
Reduce heat to low and simmer for 10 minutes, stirring occ.
Mix sour cream with flour; stir into noodle mixture.
Simmer for 3 more minutes, stirring until thickened.