Redsie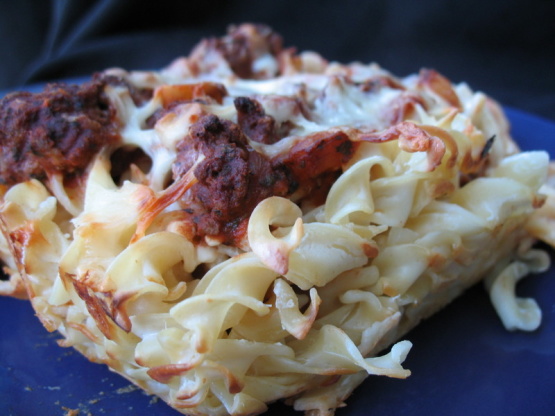 This is a great "do ahead" casserole. Make it the day before or in the morning and just pop it in the oven for 1/2 hour before dinner. Not only that it tastes good.

Nice flavor and very easy. I used mild cheddar cheese as my kids aren't sharp cheese fans. Next time I would skip the butter, saute ground beef in a non-stick skillet and drain fat. You only need to cook the noodles a couple of minutes to soften before you add as they cook more in the oven.
Cook the noodles until just tender, drain, rinse with cold water, drain well and set aside.
In a large skillet melt the butter.
Add beef and fry until well cooked and crumbly.
Stir in salt pepper, basil and tomato sauce.
In a large bowl combine the noodles, cottage cheese, green onions and sour cream.
Preheat oven to 350°F.
Butter a casserole dish (8-inch square).
Put in half on the noodle mixture.
Top with half of the beef.
Add last half of noodles and top with the remaining beef.
Sprinkle with the cheddar cheese.
Bake uncovered, 30 minutes or until bubbly and the cheese has melted.