Beef Mushroom Barley Soup
-Sylvie-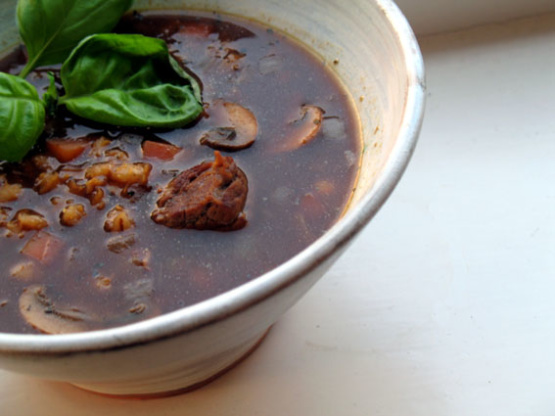 I combined parts of several different recipes and came up with this soup that I've been making for years. As much as I hate cold weather, I'm always kind of happy to see it arrive just so I can fix this soup for dinner. I usually serve it with crusty sourdough rolls for a wonderfully satisfying comfort meal.
My family LOVED this soup. I thank you very much for posting this recipe. The only change I made was adding more water.
Remove visible fat from beef and cut into small pieces.
Brown meat (in 1 tsp olive oil if desired).
Add onions and mushrooms and saute for 10 minutes.
Stir in remaining ingredients, bring to a boil, reduce heat and simmer, uncovered, for at least 2 hours.
You can add some water if soup gets too thick.
Pour into bowls and serve.