Beef Mushroom Barley Soup
-Sylvie-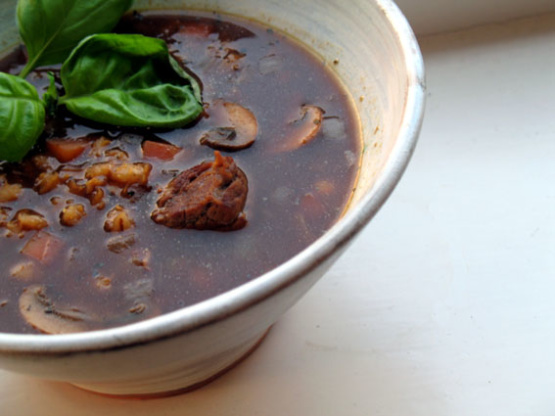 I combined parts of several different recipes and came up with this soup that I've been making for years. As much as I hate cold weather, I'm always kind of happy to see it arrive just so I can fix this soup for dinner. I usually serve it with crusty sourdough rolls for a wonderfully satisfying comfort meal.
5 Stars! Yep, it's that good. I modified mine a bit for what I had on hand. First was using shitake mushrooms (I had dried ones and reconstituted them with some of the hot beef broth). I used three big mushrooms, so I cut way back on the beef, to about 4 oz. I left out the tabasco (didn't have any). Since I've got a PC glazed stoneware pot, I browned the meat, sauteed the onions and mushrooms, and boiled and simmered in the same pot... how easy is that! And lastly, it looks delicious too. I agree with everyone else who reviewed, serve it with big chunks of crusty bread. Thanks for the recipe.
Remove visible fat from beef and cut into small pieces.
Brown meat (in 1 tsp olive oil if desired).
Add onions and mushrooms and saute for 10 minutes.
Stir in remaining ingredients, bring to a boil, reduce heat and simmer, uncovered, for at least 2 hours.
You can add some water if soup gets too thick.
Pour into bowls and serve.