Annacia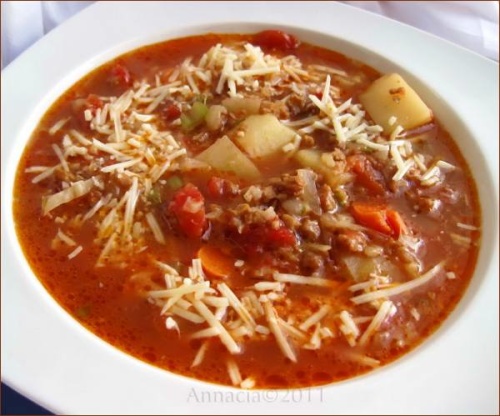 A recipe from Taste of Home. It's low-salt and low-cal. 1 cup is 141 calories. Maybe I cooked it too much because it turned out more like a stew than a soup. But it was great and healthy.

This is a very hearty and filling soup. I used hamburger veggie crumbles in place of beef and a can of diced tomatoes with their juice as well as a healthy amount of minced garlic. As with Dreamer I didn't measure but everything (except the meat) got into the pot. It really has a seductive aroma while simmering that sure appealed to my men who kept proclaiming how "good it smells in here". Loved the cheese to finish it off.
In a Dutch oven, cook beef and onion over medium heat until meat is no longer pink and onion is tender; drain. Add the water, potatoes, tomatoes, cabbage, carrots, celery, rice, thyme, bay leaf and cover and simmer for 1 hour.
Discard bay leaf. Sprinkle each serving with 1/2 teaspoon of parmesan.