teresas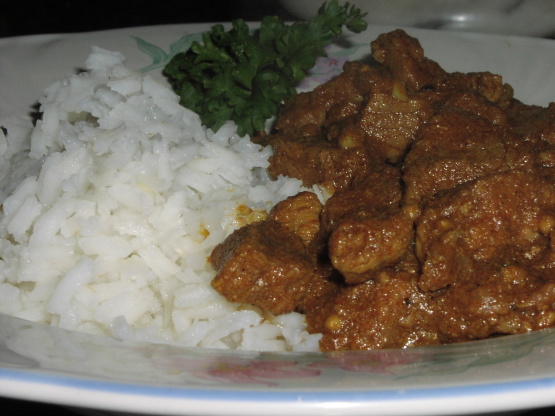 Found this in my antique (only cuz that's where I bought it) Asian Cookbook...hope you enjoy it! :) This is great served with a side of rice...and veggie of you choice...

This is a very flavorful dish -- love the warm spices that make up this recipe. It resembled more of a Tex-Mex dish than my interpretation of a "curry", but no less delicious. We served this tender beef over rice as mentioned in the recipe. Will definitely make this again! Made for My 3 Chefs, June, 2012.
Trim the excess fat and sinew from the meat, and cut it into 1 inch cubes/.
Place the coriander, cumin, mustard seeds, peppercorns, chilli powder, turmeric, slat, garlic and ginger in a small bowl; stir to combine.
Add the vinegar and mix to a smooth paste.
Heat the oil in a large pan; add the onion and cook over medium heat until just soft.
Add the spice paste and stir for 1 minute.
Add the meat and cook, stirring until it is coated with the spice paste.
Add the tomato paste and stock.
Simmer, covered for 1 hour 30 minutes, or until the meat is tender.