Beef, Macaroni and Tomato Casserole
Parsley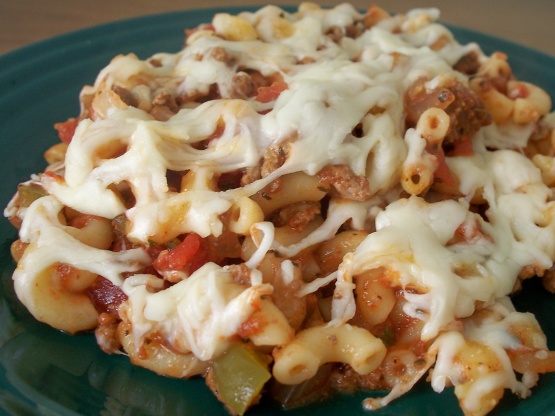 Easy homestyle meal that kids and teenagers absolutely love.

Great recipe! Hubby, who is not a big macaroni hamburger casserole fan, said it was the best he's ever had and that's saying something since I think I've tried them all. This is definitely a keeper and on my regular rotation. Only thing I did differently was use a bit more then a lb of hamburger Xlean and so I used a 14 oz can of tomato sauce as well. Thanks for posting this!
Cook noodles until al dente, 8-10 minutes, and drain.
Preheat oven to 350°F.
Cook ground beef with garlic, oregano, basil, onion, green pepper, and salt and pepper until beef is browned, cooked through, and veggies are tender.
Drain any fat.
Add tomatoes and tomato sauce to beef mixture, then simmer 5-10 minutes.
Mix beef mixture with cooked macaroni and place in a 9x13-inch casserole dish or lasagna pan.
Top casserole with mozzarella and Parmesan cheeses.
Bake at 350F for 20 minutes, or until cheese is melted and casserole is bubbly.