Beef Lok Lak (Cambodian Recipe)
JustJanS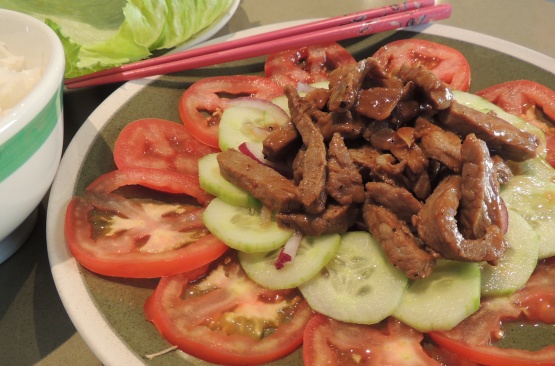 I ate lots of Lok Lak on a recent holiday to Cambodia. It's similar to Vietnamese Shaking Beef although the Cambodians don't like to admit that. In Cambodia it might come with chips (fries) and a fried egg or rice-I liked the rice option. You eat it by wrapping portions of the meat and salad ingredients in a lettuce leaf, then dipping that in the dipping sauce (the best part of it I reckon). Sometimes the meat is sliced, sometimes it's cubed-I prefer slices. Semi ripe tomatoes are preferred to ripe ones, but use what you have!
Where do you put the sugar? I see it in the list but not mentioned. In the marinade? And to the Cambodians why dont you tell whats wrong in the recipe instead? Ive eaten this in both phenom phen and sieam reap and its not far off.
In a large bowl, mix beef with soy sauce, oyster sauce, tomato sauce sugar, fish sauce and ground black pepper and garlic. Marinate at least 20 minutes or up to one hour.
Make dipping sauce, combine ingredients in a small bowl-set aside.
Decorate two dinner plates with sliced tomatoes, cucumber and onion. Set aside.
Place the lettuce leaves on a seperate platter.
Heat oil in a wok over a high heat and stir-fry beef until cooked. Divide between the two dinner plates.
See intro for how to eat.