Beef Liver Dumpling Soup II (Leberklosse)
jrtfan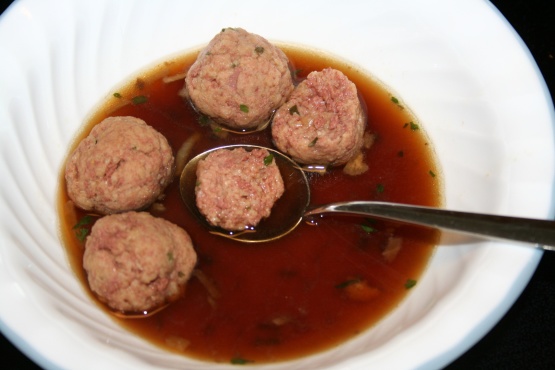 Leberklosse, or Liver Dumplings make a wonderful soup to serve with your German or Austrian style dinner. Posted in reply to a request.

This was great! I had a tube of liverwurst lying around that needed to get eaten up and I couldn't face another boring cold liverwurst sandwich. This recipe was very easy, super fast, and tasted delicious. Even my liverwurst hating DH ate some. Thanks! I will be making this again.
1⁄4 lb liver sausage

1

egg whites or 1 egg yolk
1⁄2 cup cracker crumb

1

tablespoon catsup (optional)

3

cups beef stock
1⁄2 teaspoon parsley
Shape mixture into 1 inch meatballs.
Drop into gently simmering stock.
Simmer 5-6 minutes.
Add parsley for garnish.