Bergy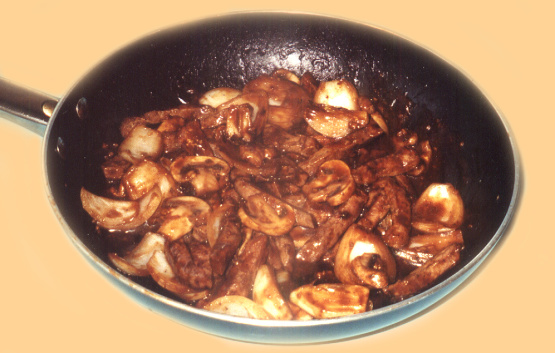 From the HARROWSMITH COOKBOOK with thanks to a Ms. C. Suche of Winnipeg, Manitoba, Canada, who suggests serving this unusual and tasty liver-dish on a bed of stir-fried beansprouts.

Top Review by Bergy
This is an excellent recipe. I was going to mark you down one star for not indicating how much ginger to use - 1 small gingerroot does not really define it- however I enjoyed the recipe so much I didn't have the heart to mark it down - I used 2 tsps of ginger and it could take a little more.. The other difference I used 2 cloves garlic. Served over rice with steamed baby carrotts. Liver lovers unit! Thanks Gerry for an enjoyable meal
Combine soy, honey, sugar, vinegar, ginger, garlic and peppercorns.
Pour over liver and let sit and for at least 2 hours (but preferably overnight), stirring occasionally.
Remove liver from marinade, shaking off the peppercorns.
Strain marinade and dispose of solids.
Combine strained marinade with cornstarch and stock and then set aside.
Heat oil and saute onions and mushrooms until limp.
Add onions and mushrooms to marinade.
Saute liver until lightly coloured.
Pour marinade-onion mixture into pan and cook until thickened, stirring constantly.
Serve.