JustJanS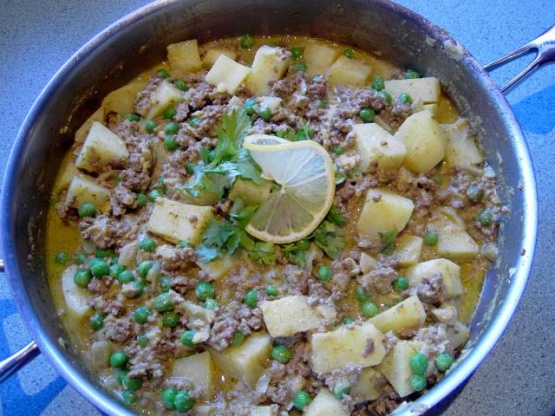 Meat and potatoes -- just "different." I love this dish so much. I haven't made it in ages but now that I'm posting it I think I'll have to make it again soon. So delicious!

I loved this dish, too. Creamy, slightly tangy, spicy (but not overly so) and rich-yum. Very easy to put together and both prep and cooking times were accurate. Definitely not boring meat and potatoes.
In large deep frying pan, heat oil over moderate heat.
Add onion and cook about 3 minutes.
Sitre in garlic and ginger and cook 1 more minute.
Add beef and cook until no longer pink.
Drain fat (if desired).
Add coriander, cumin, pepper, turmeric, cinnamon and 1 tsp of the salt.
Cook for 1 minute, stirring.
Stir in potatoes, yogurt/sour cream and milk.
Cover.
Bring to barely a boil.
Reduce heat and simmer for 20 minutes.
Uncover and simmer 5 minutes more.
Stir in frozen peas and 1/2 tsp salt.
Simmer about 2 minutes.
Stir in lemon juice and cilantro.