anomdo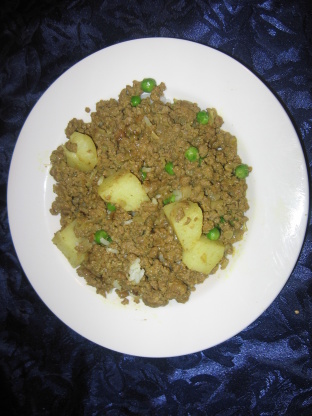 According to Wilkipedia, "Keema is a traditional home cooked dish in northern India and Pakistan. It is minced lamb curry served with peas or potatoes. Originally Qeema in Urdu means mince meat. It may be mutton, lamb, beef or chicken. Thus Qeema of any meat can either be cooked in stew form, made into kababs, fried or barbecued." This is from one of my Food & Wine cookbooks. This dish is often made with lamb and served with naan or pitas. They say to serve it with a fruity Beaujolais.
In a large deep frying pan, heat the oil over moderate heat. Add the onion and cook until starting to soften, about 3 minutes.
Stir in the garlic and ginger and cook 1 minute longer. Add the beef and cook until no longer pink, about 3 minutes. Drain off any fat.
Add the coriander, cumin, pepper, turmeric, cinnamon and 1 teaspoon of the salt to the pan. Cook, stirring, for 1 minute. Stir in the potatoes, yogurt and milk.
Bring just to a boil. Cover the pan. Reduce heat to a simmer and simmer for 20 minutes. Uncover the pan and simmer for 5 minutes longer.
Stir in the peas and the remaining ½ teaspoon salt. Simmer until the peas are just done, about 2 minutes. Stir in the lemon juice and cilantro and serve.