Beef Jerky Biltong Flavouring
Peter J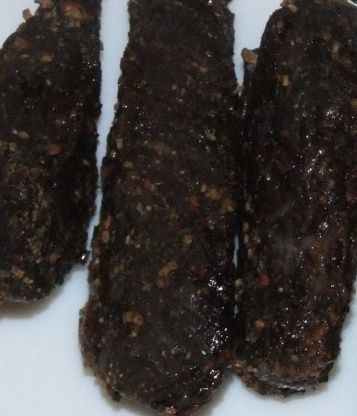 I found this recipe elsewhere. I love my beef jerky but could not find any good recipes for any. I found this somewhere years ago and have been using it ever since. you can adjust the recipe up and down or add other herbs easily.

I made this recipe last weekend. I used only 1/3 cup malt vinegar with the rest of the ingredients as stated. I brushed the vinegar onto the meat to get an even spread. Turned out so great I tripled the recipe and made a huge batch to give away. Will definitely be making this again!
Mix the Pepper, coriander, salt and brown sugar together thoroughly.
Slice the meat into 1 cm thick slices about an inch wide.
Place a layer of meat in a plastic container and sprinkle lightly with the vinegar.
Sprinkle the spices over the top of the meat without completely drowning it.
Place another layer of meat on top of the first and repeat the vinegar and spices steps until all the meat is used up.
Leave in the fridge for 3 hours
Remove and mix it all up thoroughly so that all the spices are evenly spread through the meat.
Drain any excess fluids from the container and return to the fridge for a further three hours. The longer it stays in the fridge the stronger the spice flavours become.
Remove and place in your dehydrator until dried to your satisfaction. (12 to 24 hours in my dehydrator).
Eat and enjoy.