diner524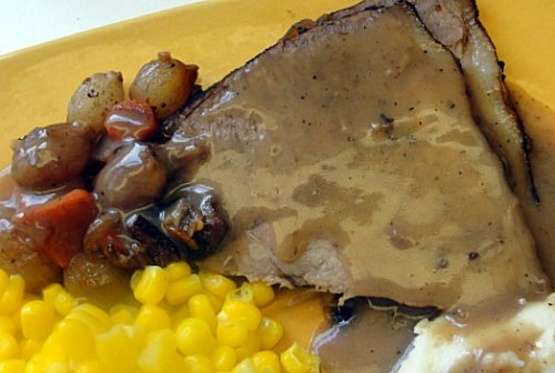 This roast is based on a recipe from The Encyclopedia of Creative Cooking, edited by Charlotte Turgeon. Allow time for the beef to marinate 12 to 24 hours. Tip: I find it easy to peel tomatoes by filling a small deep saucepan with water, bring to a boil, remove from heat, and plunging a tomato held up with a fork into the water, slow-counting to ten; the skin comes off easily without cooking the tomato.
Delicious roast beef!!! I used a 2 lb sirloin tip roast. I followed the ingredients but once I marinaded the beef and strained it, I added those onions in with the beef after it was browned along with some of the marinade. When it came time for the vegetables, I then also used the carrots from the strained marinade, but otherwise followed as written and it came out perfect!!! I served it for a Sunday dinner along with mashed potatoes, gravy from the roast, corn and homemade crescent rolls, yummo!!! Thanks mersaydees for sharing the recipe!!! Made for ZWT 5.
3 -4

lbs boneless beef roast (rump, sirloin tip, or round)
1⁄2 teaspoon salt
1⁄4 teaspoon fresh ground black pepper

MARINADE

3

cups red wine

1

cup water
1⁄2 cup onion, sliced
1⁄2 cup carrot, sliced

1

garlic clove, minced

VEGETABLES

10

small white onions, peeled

8

carrots, peeled, shaped like small balls

2

sprigs fresh parsley, for garnish

2

tablespoons flour

2

tablespoons butter

3

tablespoons madeira wine

2

tablespoons cognac

1

bay leaf, crumbled

2

teaspoons fresh parsley, chopped

1

teaspoon thyme

BRAISING INGREDIENTS

2

tablespoons vegetable oil

2

slices lean bacon, cubed

1

ounce brandy, warmed

1

veal knuckle or 1 beef knuckle

1

tomatoes, peeled, quartered

1

tablespoon fresh parsley, chopped

1

bay leaf

3

green onions, chopped

1

cup beef bouillon
1⁄2 teaspoon salt
Rub salt and pepper over beef.
Mix together all marinade ingredients in glass or ceramic bowl large enough to accommodate the beef. Add the beef and coat on all sides with the marinade, cover, and refrigerate 12 to 24 hours, turning the beef occasionally.
Remove beef from marinade and pat dry with paper towels. Strain and reserve marinade.
Heat oil in large Dutch oven.
Add bacon; cook until transparent.
Add beef and brown on all sides.
Drain off fat.
Pour warm brandy over beef and ignite; allow flames to die down.
Add remaining braising ingredients; cover pan.
Bake in 350 degree F oven for 3 hours, occasionally basting with reserved marinade.
While meat is roasting, prepare vegetables.
During the last hour of braising, add onions and carrots to Dutch oven.
When meat and vegetables are tender, remove from oven and place on preheated platter.
Surround with onions and carrots. Garnish with parsley and keep warm.
Strain sauce through a sieve, skimming off any fat.
Make a medium to dark roux with the flour and butter.
Thicken pan sauce with all or part of the roux.
Stir and heat to boiling 1 to 2 minutes.
Add Madeira and cognac. Adjust seasonings.
Spoon some sauce over meat; serve remaining sauce on the side.