Beef Heart Jerky for Dogs
Axe1678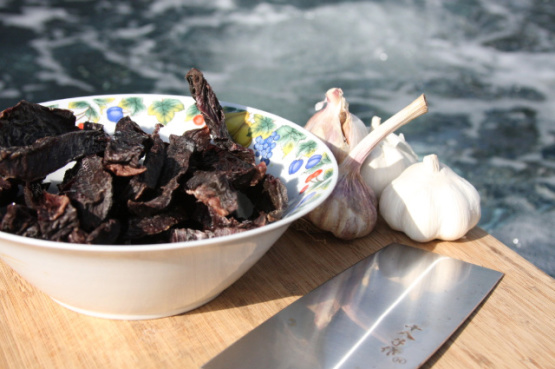 Beef heart is highly nutritious and in this area is very cheap and sometimes free. I cut the slices at least 1/2" thick so the pups can chew it for a while.

Dogs went nuts for this! I cut some into smaller pieces, 1-2" square so they dried into small training size bits and left some bigger. I had the heart from a beef order I get annually so I was happy to find a great use for it. I only had to do about 6-8 hrs in my dehydrator, depending on piece size. I froze half, but it was all gone pretty quickly. I'd much rather give them this than store-bought biscuits
Cut the heart in 1/2" by 1/2" strips.
sprinkle with a light dusting of garlic powder if using.
place on dehydrator trays with plenty of room between the strips.
dehydrate at 150F for approximately 20 hours.
If you don't own a dehydrator, this can be done in your oven on it's lowest setting with the oven door propped open an inch or two.