teresas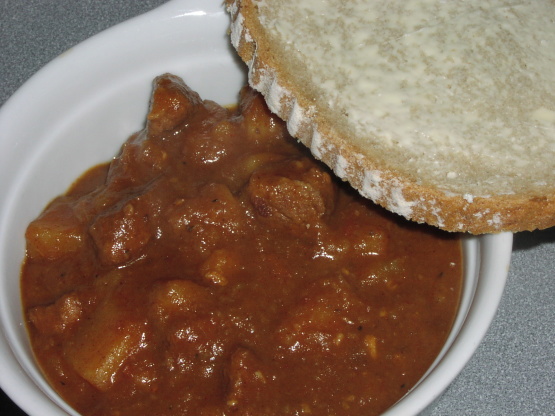 My slightly modified version of a Cooking Light recipe. Very hearty and flavorful. Only 5 ww points per serving. Here is the nutritional breakdown according to Cooking Light (which tends to be a bit more reliable than 'zaar's): CALORIES 242(23% from fat); FAT 6.1g (sat 2.6g,mono 2.3g,poly 0.4g); PROTEIN 24.2g; CHOLESTEROL 47mg; CALCIUM 31mg; SODIUM 517mg; FIBER 2.5g; IRON 2.8mg; CARBOHYDRATE 22.4g

Holy Cow! Didn't have to change anything. Completely worth the time it takes to make this. The taste is similar to a Czech goulash I had recently at a European restaurant (but looks different). I will be making this frequently.
Dredge beef in flour; sprinkle with 1/2 teaspoon salt and 1/4 teaspoon pepper. Melt butter in a Dutch oven over medium-high heat. Add beef; cook 8 minutes, browning on all sides. Remove beef from pan.
Add onion and garlic to pan; sauté 10 minutes or until lightly browned. Stir in paprika and vinegar; cook for 2 minutes.
Return beef to pan. Add the tomato and bay leaves; cook 3 minutes. Add water and broth; bring to a boil.
Add potatoes, lower heat, cover and simmer for 2 hours.