LiaCN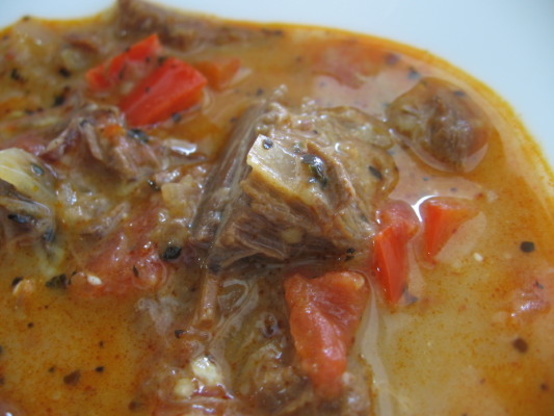 I wanted to put together a soup for a small group of people and this just kind of came together.
Top Review by LiaCN
Absolutely delicious!! I wish I were creative at coming up with recipes , but I'm not. So I have to rely on people like you to make my belly happy! LOL This soup is wonderful! I made1 change. It was just the omission of green pepper. We don't eat them. For the beef I used leftover roast beef that needed something done with it. Since my meat was already cooked , I did this on the stove top and of course , it didn't take as long. I like that it can be done on the stove top though because a lot of times I have leftover meat that needs used and this is a great way to use it! I had a bit of difficulty getting the cream cheese incorporated into the soup , but that was minor. Thanks so much for a delicious new soup for my recipe box!! It will definitely be a repeater!!
Heat olive oil and add garlic, onion, bell peppers, and jalapeno.
Saute until onions are clear.
Place beef in crock pot with enchilada sauce and beef broth. Add sauteed vegetables.
Cook on low for 4-5 hours (on high if steak is frozen). Add herbs, pepper, and tomatoes. Add cream cheese and pepper jack cheese. Cook on low for one hour.
Serve with shredded cheese and sour cream.