Bergy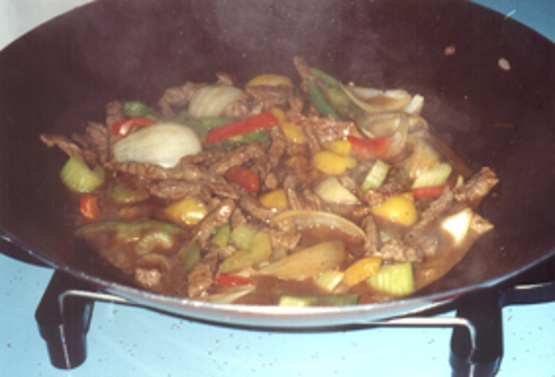 This is a very hearty stir-fry. Serve over rice or noodles.

Top Review by Bergy
Easy to follow steps, Quick to make and a great presentation with the multi colored peppers The flavor is wonderful. I chopped the veggies ahead of time, sliced the meat refrigerated them Just before dinner out came the wok and in under 10 minutes dinner was on the table. I cut the recipes in half and used only 1 3/4 tsp cornstarch with 1/2 cup water.The amount of curry is just right - it gives flavor but does not overpower. Thanks Inez for a very tasty meal
Mix the soy sauce, garlic, ginger, and 2 T oil.
Add beef; toss to coat.
Chill for 15 minutes.
In wok (or lg skillet) heat remaining oil.
Stir-fry beef over med heat for 2 minutes.
Remove beef and set aside.
Stir-fry onion for 1 minute.
Add peppers and celery; stir-fry 2 minutes.
Return beef to wok.
Mix water, cornstarch and curry until smooth.
Add to wok, bring to a boil stirring constantly.
Boil for 1 minute.