Sara 76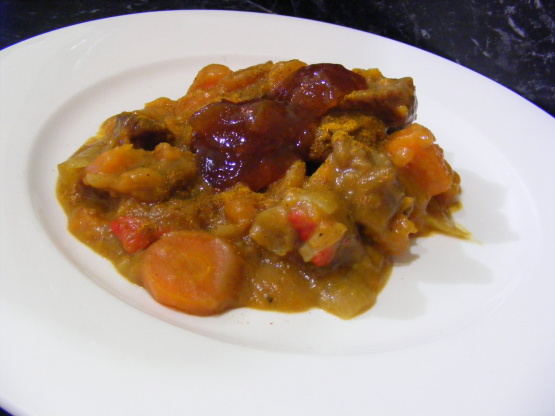 This yields a mild curried beef dish that is satisfyingly chunky and roast-like. Don't be put off by the seemingly large amount of curry powder, the long cook time yields a surprisingly subtle curry flavor and the sweetness of the vegetables balances it nicely. This is not a soupy curry, it does not need to be served over rice. DH did not realize this was a crock pot dish!

We all really enjoyed this. My husband doesn't love peppers, so I cut them back, using just half each of 1 green and 1 red. I added smallish carrots to make up the vegetable content. I used beef stock, and I thought at the beginning I had cooked off too much liquid in the frying pan, as I was left with more of a thick curry paste than a sauce or gravy, but after cooking away in the crockpot with those vegetables, we ended up with a really nice thick sauce! I loved the idea of garnishing with the curry powder, as it meant everyone was able to control the heat on their own plate, so the kids enjoyed their mild sweet curry, and we were able to have a sweet but fiery curry! I added the mango chutney to mine, which gave it a nice flavour.
Combine the flour, salt and curry powder in a large ziptop bag.
Add the cubed stew meat to the ziptop bag and shake to coat the meat.
In a large skillet, heat 2 TB vegetable oil over medium heat. Remove the meat from the bag (shaking excess flour) and place it into the skillet. Brown on all sides.
Turn the skillet off and move the browned meat to the crock pot.
Turn the heat on the skillet back to low, and add the remaining vegetable oil and butter. Then dump the seasoned flour from the ziptop bag into the skillet. Stir to keep the flour from burning. Cook for 1 to 2 minutes.
Pour the broth into the skillet and scrape all the brown bits off the bottom of the pan. Bring to a low simmer while stirring, and then turn the heat off.
Add the vegetables to the crock pot on top of the meat.
Pour the "gravy" from the skillet onto the top of the vegetables.
Cook on LO for 4 to 6 hours.
Garnish with a light dusting of curry powder and serve with mango chutney.