lazyme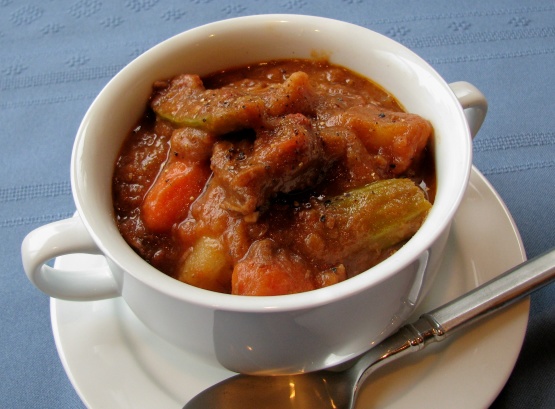 Robust flavor all in one pot.

This stew was just ok. Followed recipe, but used homemade chicken stock instead of beef. I found it too acidic from the tomatoes, which I would reduce or eliminate next time. Also could use a bit more depth of flavor, which could possibly be lacking due to replacing with chicken stock.
Preheat the oven to 275°F.
Season half the beef with salt and pepper, and then dredge in the flour. Shake off excess flour. Add olive oil to a large dutch oven over medium-high heat and brown beef cubes. Using a slotted spoon transfer the beef to a plate. Repeat with the remaining beef.
De glaze pan with 1 cup of broth then pour all back into broth container.
Melt the butter over medium-high heat; add the onions and cook, stirring until lightly browned. Add the garlic and cook, stirring, until fragrant about 1 minute. Add the tomato paste and cook, stirring, until lightly browned, about 1 minute. Return the beef to the pot and add the broth and wine, and bring to a simmer.
Stir in Dijon mustard and add bay leaves. Season to taste with salt and pepper. Cover and transfer to the oven. Stew the meat until tender, about 1-½ hours.
Remove from the oven and skim the fat from the cooking liquid. Add the potatoes, carrots, celery, and the tomatoes with juice, and bring to a simmer. Stew uncovered, on top of stove, skim and stir occasionally, until liquid has thickened and the beef and vegetables are tender, about 1 hour. Remove the bay leaves, season to taste and serve.