PanNan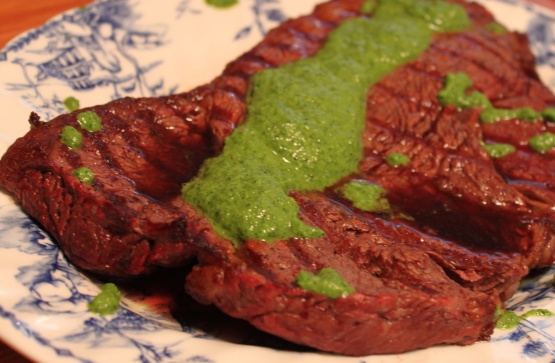 Summer is the perfect time to make this Argentinian classic. Can be served with 3 cups or so simple white rice, if you like.

This was a good chimichurri sauce and will make it again. But, will slightly reduce the vinegar, as it was a bit too much for us. We don't eat much meat, so we just pan-fried a New York strip to rare, then thinly sliced it to share between the two of us. Made for Culinary Quest 2014.
In a food processor, combine parsley, shallot, garlic, vinegar, olive oil, 1/4 t. each of the salt and pepper. Pulse until combined; set aside.
Heat a gas grill to medium-high heat or prepare a charcoal grill with medium-hot coals. Sprinkle remaining 1/4 t. each salt and pepper over steak. Grill about 8 minutes per side.
Remove steak from grill and place in a glass baking dish; spread the sauce over top and cover dish with foil; allow to sit for 5 minutes. Remove steak from dish and slice. Serve with sauce remaining in baking dish.