Prep 10 mins
Cook 16 mins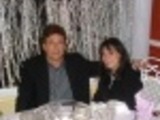 Summer is the perfect time to make this Argentinian classic. Can be served with 3 cups or so simple white rice, if you like.
Directions
In a food processor, combine parsley, shallot, garlic, vinegar, olive oil, 1/4 t. each of the salt and pepper. Pulse until combined; set aside.
Heat a gas grill to medium-high heat or prepare a charcoal grill with medium-hot coals. Sprinkle remaining 1/4 t. each salt and pepper over steak. Grill about 8 minutes per side.
Remove steak from grill and place in a glass baking dish; spread the sauce over top and cover dish with foil; allow to sit for 5 minutes. Remove steak from dish and slice. Serve with sauce remaining in baking dish.
Reviews
Most Helpful
This was a good chimichurri sauce and will make it again. But, will slightly reduce the vinegar, as it was a bit too much for us. We don't eat much meat, so we just pan-fried a New York strip to rare, then thinly sliced it to share between the two of us. Made for Culinary Quest 2014.

Made this delicious sauce tonight to go on our steaks. I cubed up ribeye steaks vs. using sirloin and placed them on skewers. They were wonderful with the chimichurri sauce. Served with black beans and rice. Made for Culinary Quest - South America, 2014.

Seriously good! The sauce is excellent and adds substantially to a great cut of bbq'd beef. We grilled to medium-rare and served in mini pitas drizzled with more sauce and some salad for really excellent sandwiches. Thanks for a great recipe.