Beef Chili With Bacon & Black Beans
flower7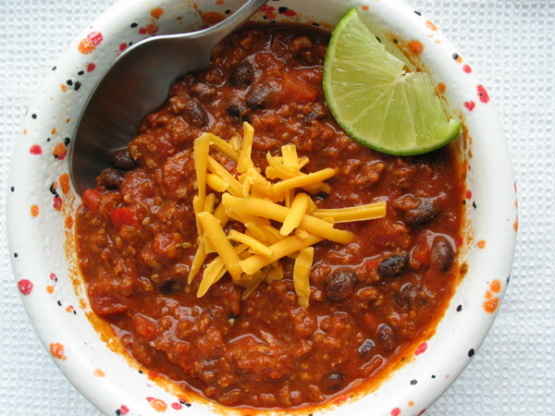 I found this recipe in the March, 2003 issue of Cook's Illustrated Magazine. We just love this chili and hope that you will, too! It is best served with the optional condiments, the more variety, the better! The flavor is better if you make it a day or two before and then reheated, which means it makes great leftovers, too ;) Freezes well up to one month.

This seemed a little daunting at first, but it was worth the extra effort. I made it for a chili contest at work (and won first prize!). I used 28 oz of canned whole tomatoes pureed in blender and added a small can (maybe two...I can't remember) of tomato paste as I didn't have tomato puree. I think I threw in a small can of tomato sauce, too for good measure. I'm sure I left out the pepper flakes because I don't like it so hot the flavors get lost, and it still had a good kick--I would say just right. I made more bacon and took some out to put on top for garnish. The first time we ate it we thought, "This is good." The second day we had it over waffle fries with cheese, bacon and sliced scallions and thought, "This is REALLY good!" I decided it was contest worthy. I have made it a 3rd time without going through the 2 step hamburger browning, and it's still really good. I think the cooking time is key, with an hour with lid and hour without, so don't skimp on that step. As with most soups, stews, chili's and hotdishes, this is even better after it sits for a day! Definitely a keeper!!!
8

ounces bacon, cut into 1/2-inch pieces (about 8 strips)

2

medium onions, chopped fine (about 2 cups)

1

red bell pepper, cut into 1/2-inch cubes

2

tablespoons garlic, minced
1⁄4 cup chili powder

1

tablespoon ground cumin

2

teaspoons ground coriander

1

teaspoon red pepper flakes (or to taste)

1

teaspoon dried oregano
1⁄2 teaspoon cayenne pepper (or to taste)

2

lbs 85% lean ground beef

2

(16 ounce) cans black beans, drained and rinsed

1

(28 ounce) can diced tomatoes with juice

1

(28 ounce) can tomato puree
table salt, to taste

2

limes, cut into wedges

Optional Condiments

fresh tomato, diced
avocado, diced
scallion, sliced
red onion, chopped
cilantro leaf, chopped
shredded monterey jack cheese or cheddar cheese
Fry bacon in large heavy-bottomed nonreactive Dutch oven over medium heat, stirring frequently, until browned, about 8 minutes.
Pour off all but 2 tablespoons fat, leaving bacon in pot.
Add onions, bell pepper, garlic, chili powder, cumin, coriander, pepper flakes, oregano, and cayenne; cook, stirring occasionally, until vegetables are softened and beginning to brown, about 10 minutes.
Increase heat to medium-high and add half the beef; cook, breaking up pieces with wooden spoon, until no longer pink and just beginning to brown, 3 to 4 minutes.
Add remaining beef and cook, breaking up pieces with wooden spoon, until no longer pink, 3 to 4 minutes.
Add beans, tomatoes, tomato puree, and 1/2 teaspoon salt; bring to boil, then reduce heat to low and simmer, covered, stirring occasionally, for 1 hour.
Remove cover and continue to simmer 1 hour longer, stirring occasionally (if chili begins to stick to bottom of pot, stir in 1/2 cup water and continue to simmer), until beef is tender and chili is dark, rich, and slightly thickened.
Adjust seasoning with additional salt.
Serve with lime wedges and condiments if desired.