Beef Chapatis (African Version of Tacos)
Nif_H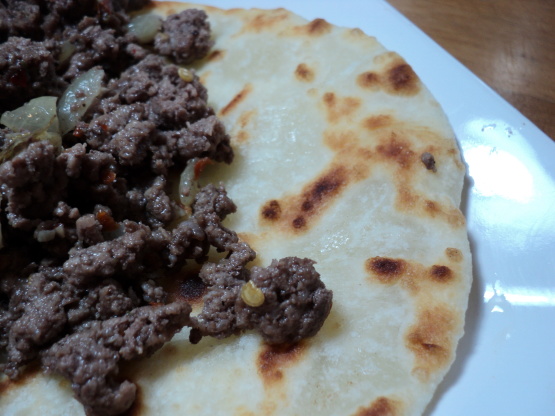 This is an African version of beef tacos. Recipe courstesy of chef Keith Famie. I've added some optional ingredients for topping these tacos that aren't true to the African way, but might be tasty! P.S. I can never seem to find red chilies in our markets, so I sub jalapenos.

Top Review by Nif_H
I liked this a lot! The beef was really good but not too spicy. I made the chapatis as directed but had to add about another half cup of flour to it to make it dry enough to handle. I also found that they didn't brown up very well and kind of soaked up the oil. I did give this 5 stars though! I am quite confident that someone else would be able to make this better. Anything that is remotely like baking (flour and water!) is always a challenge to me! Made for my teammate for ZWT7. Thanks LifeIsGood! :)
Chapatis:.
In a mixing bowl, use your hands to combine the flour, water, salt and 2 T of the olive oil. Mix until well combined and a sticky dough forms. (You may need to fine tune this to get the right consistency for kneading without sticking, by adding more flour. If the dough is too stiff then add a bit more water) Remove the dough from the bowl and place it on a floured surface. Knead the dough for about 3 to 5 minutes. Refrigerate for 20 minutes.
Return the dough to the floured work surface and roll it into 4 six-inch circles/discs.
Put the remaining 2 T of olive oil in a saute pan over medium heat and make sure to get really hot before adding the chapatis, or the chapatis will soak up the oil instead of browning properly. Put one or two chapatis into the hot pan (depending on the size of your pan) and brown both sides of the chapatis. Remove from pan and keep warm and do the other two (you may need to add a bit more oil to the pan.). I also like to lightly salt the cooked chapatis.
Filling:.
In a hot saute pan over medium heat, saute the onion and garlic in the olive oil until the onion gets translucent, about 2 minutes. Add the chiles and saute for 1 minute. Add the ground beef and continue to saute until the meat is completely cooked - approximately 10 minutes.
Season the filling with salt and pepper and serve on a piece of chapati. Add toppings if desired.