I'mPat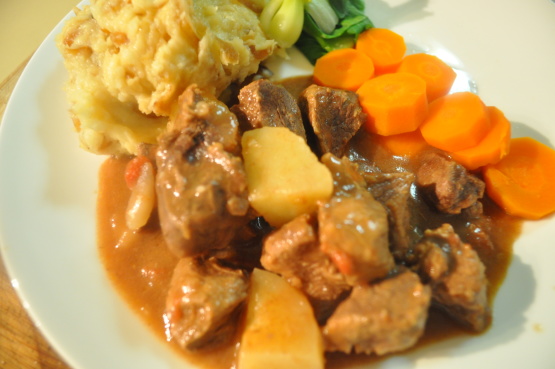 I spent an day looking after a family members home while workmen were there to install a new security entranceway (they are away on holiday) so to keep me busy I decided to go through their cookbooks looking for some recipes to post on 'zaar.

Fabulous! I added carrots in large chunks and more celery. Due to being a non - drinking family there is no wine, so I added dark grape juice - perfect. I doubled the liquid so it was more "soupy" as I added herb dumplings in the last 20 minutes of cooking, it became a one pot meal. What a great meal to have on a cold wet winter night. thanks for posting!!
Preheat oven to 180°C.
Roll beef in flour mixed with paprika.
Put into an enamelled, cast iron casserole that will hold all the ingredients comfortably with not too much extra space.
Whiz tomatoes and their juice in a food processor, or crush roughly with a wooden spoon, then add to meat.
Add remaining ingredients to casserole and stir.
Press a piece of baking paper over contents and cover with lid. Cook in oven, undisturbed for 2 hours.
Season to taste. Check if meat and potatoes are tender and if necessary cook longer.
Serve with a bowl of yoghurt, perhaps a small bowl of sliced pickled dill cucumbers or if you are happy to use another pot, steamed cooked carrots or other vegetables alongside.