Beef Brisket with Celery and Onion
Parsley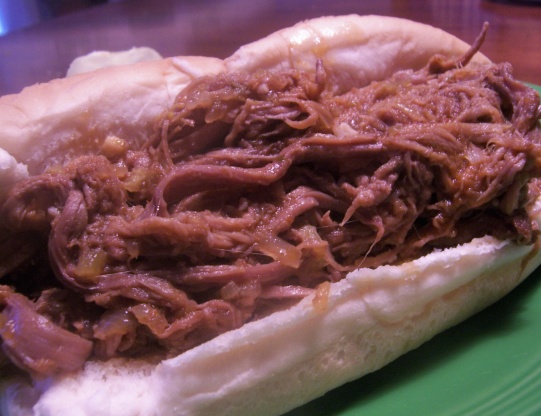 This is my favorite brisket recipe. The addition of lots of celery and onions along with the juice makes wonderful sandwiches. Recipe is for a crockpot.

Very tender and delicious sandwich meat. I hopped my celery and onions very very fine (included those celery leaves, too). I skipped the water and added extra tomato sauce. Added lots of fresh minced garlic, too. I was gone for much of the day and my house smelled fantastic when I returned. The meat shredded practically effortlessly with forks. I'll make this again; thanx for sharing.
In a large skillet, brown the brisket on all sides in oil; transfer to a slow cooker.
In the same skillet, saute celery and onion for 1 minute.
Gradually add broth, tomato sauce and water; stir to loosen the browned bits from pan.
Add sugar, soup mix and vinegar; bring to a boil.
Pour over brisket.
Cover and cook on low for 7-8 hours or until meat is tender.
Let stand for 5 minutes before slicing.
Skim fat from cooking juices.
Serve meat in buns with cooking juices.