Beef Braised With Red Wine and Mushrooms
teresas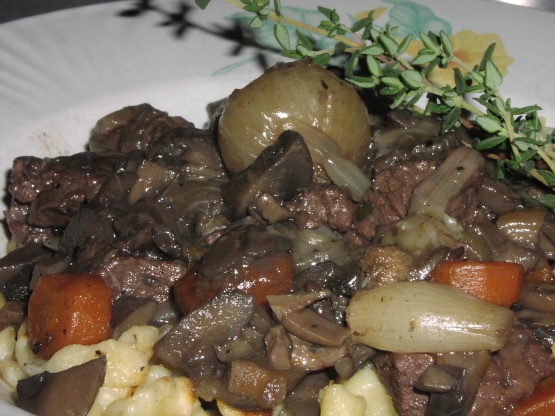 Add a tsp or two of ground dried mushrooms with the broth and wine to give it more depth. dried meaty earthy mushrooms if possible. From Cooking Light: calories 307, fat 10.3 (sat 3.8) carb 19.9, serving size 1 1/4 cups
Combine porcini mushrooms and 1 cup boiling water in a small bowl. Let stand 30 minutes. Drain mushrooms through a sieve into a bowl, reserving liquid. Chop mushrooms, set aside.
Sprinkle beef with sapt and pepper. Heat oil to med high in a large dutch oven. Add 1/2 the beef to pan, saute 5 minutes or until lightly browned on all sides. Remove beef from pan with a slotted spoon, place in a bowl. Repeat with remaining beef.
Add onions to pan, saute 3 minutes or until lightly browned. Add cremini or button mushrooms and carrot. Saute 3 minutes until mushrooms are tender. Add beef, porcini mushrooms and liquid, some salt and pepper, broth and next 4 ingredients (through bay leaves). bring to a boil, cover and reduce heat.
Simmer 1 1/2 hours until beef is tender, uncover for an additional 20 minutes.
Combine 1 tbs water and cornstarch in a small bowl, add to pan. Bring to a boil until liquid thickens. Discard thyme sprigs and bay leaves.