- Carla -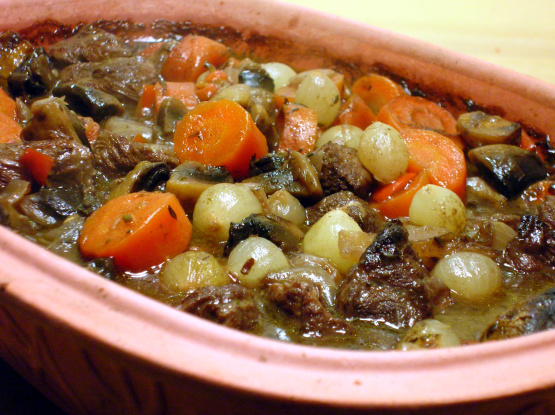 Hearty, tender beef in a red wine sauce. Serve with a loaf of crusty bread! In Memory of our Julia Child.

I have been wanting to make Julia Child's version for a long time, but every time I read the recipe I change my mind. Found this wonderful recipe and had to try!! It is outstanding!!!! I fed 7 adults with this recipe and had enough leftovers for one more serving. My only alterations to this recipe was to add about a tablespoon of tomato paste and a cup of beef broth. To die for!! Now one of my favorites!!
In a small bowl, combine the flour, salt and ground black pepper.
Coat the beef cubes with this mixture.
Melt the butter in cast iron pot over medium high heat. (Or if not worried about fat fry 3 bacon slices till browned remove and use the fat in place or with the butter).
Add the meat and brown well on all sides.
Add the onion, carrots, mushrooms, red pepper, and garlic to it.
Saute for 5 to 10 minutes, or until onion is tender.
Add the wine, bay leaf, parsley, and thyme.
Bake, covered, at 350 degrees for 2 1/2 hours.
Remove cover and bake for 30 more minutes.
If needed add more wine, chicken broth, or water.
Garnish with parsley and crumbled bacon.