Very nice to have when company is coming, serve over cooked rice.
Directions
In pan, brown onions and mushrooms in butter, remove from pan and set aside.
Add beef cubes in batches, browning well on all sides. Set aside.
To remaining fat in pot, stir in flour. Add stock, wine and tomato paste. Bring to boil, stirring as sauce thickens.
Add garlic, salt, thyme, bay leaf and pepper.
Place meat and sauce in large casserole. Cover and bake at 350 F for 2 hours. Add onions for last 30 minutes, and mushrooms for last 15 minutes.
Top with parsley before serving.
Reviews
Most Helpful
This is defiantly a five star recipe. I made this with top sirloin (and was a bit worried it might not be tender) but it just melted in our mouths. I served it over rice too, and the flavor was wonderful. I hope others will try this and you get more reviews,.....it is certainly a winner. I used a package of sirloin that was about $4.00 and the recipe could easily have fed 6 people, so it is a very economical dish too.l Thanks for posting and I will be making this again for sure ! Donna
This was excellent - wonderful flavour from the wine! I browned the meat, then threw everything in the slow cooker for the day. I served it over jasmine rice. It was even better leftover. Thank you Canadian Pixie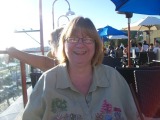 This is more than nice and not only when company is coming. I followed exactly the directions and the beef was soft and tender, the sauce delicate, and the onions and mushrooms were pefect. Because I was too lazy, I have used a pot for browning and baking and it works very well. I like that the sauce is not overpowering the beef or the onions. The combination of red wine and only thyme is just the right combination for the beef. The beef was very tender. I served it with rice to use up the sauce, but I would suggest to serve also some bread. And don't forget to serve it with the red wine you have used for cooking. It will complete the falvour of the wine in the sauce.

Holiday Central >