Beef, Black Beans and Rice Noodles With Oyster Sauce
mianbao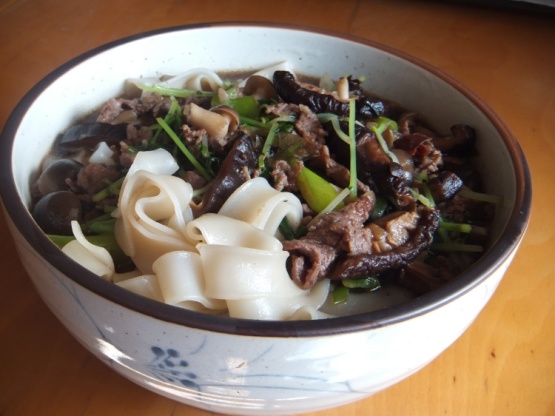 From famous Australian chef Neil Perry, these noodles from Wokpool Noodle Bar form a beautifully textured dish with a rich salty sweet flavour. My addition is the chilli! I hate mushrooms so don't use them, but I've included them in the recipe for all you mushy lovers out there! The technique of adding the sesame oil last leaves the most beautiful flavour; I usually use ground szechuan pepper and salt rather than the white pepper.

These noodles are wonderful! I did halve the recipe, and used snow pea shoots instead of gai lan. I also used shimeji mushrooms for oyster mushrooms, and dried rice noodles instead of fresh. The recipe doesn't list chicken stock in the ingredients, although it is in the directions. I used 1 3/4 cup stock for my half batch (though more might be better). It took longer than I expected for the dried noodles to cook, so I ended up cooking them separately, and putting the sauce over them in the bowl. Also, I don't know so much about cooking with black beans. I soaked mine in hot water, and then chopped them before adding them to the pan. It didn't seem to hurt. Thank you very very much for this delicious recipe.
Heat the oil in a wok until just smoking. Add the ginger, garlic and chilli and fry til fragrant.
Add the beef slices and stir-fry for one minute, then add the black beans, both sorts of mushrooms, shao xing, palm sugar, soy and oyster sauces and chicken stock. Stir fry for one minute.
Add the rice noodles, broccoli leaves and spring onions and cook for a further minute. Finally, add the sesame oil and remove from the heat.
Spoon into a large bowl or platter then sprinkle over the pepper.