Pneuma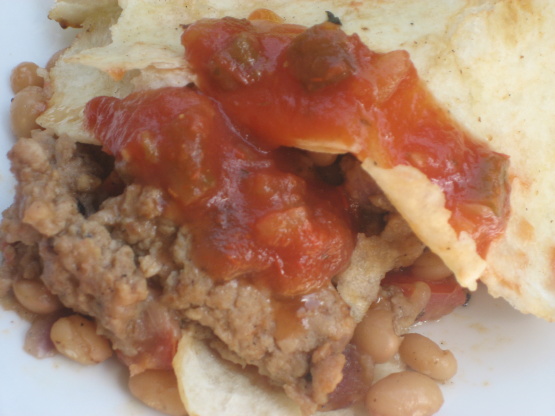 This is a delicious but simple recipe that's bursting with flavor! Also good for a quick meal and can easily be doubled for larger batches. I can honestly say that when we have these, there are never any leftovers.

Top Review by Pneuma
Muy bueno! I kept saying mmmm for each bite I had! At first I thought that not using the sauce when frying woud render the mixture dry and lessen the taste, but in fact, it was very tasty! I used a mixture of diced tomatoes and tomatillos in here and served it with sour cream, Mexican salsa spiked with a tsp of chopped jalapenos, guacamole and lots of water (for drinking to bear the heat! lol)! So filling! I'll be making this again! Muchas gracias! Made for ZWT5's The Chow Hounds. 2009.
Saute onion & garlic in skillet on medium heat. Add steak & cook until brown. (Do not drain, those juices add lots of flavor later!).
Drain tomatoes & kidney beans, add to skillet and cook for 5-10 minutes.
Sprinkle cilantro all over & mix well. Cook for a few more minutes until heated throughout.
Warm up flour tortillas, sprinkle cheese inside, & spoon desired amount into tortilla. Enjoy!