Beef Barley Mushroom Soup
Derf2440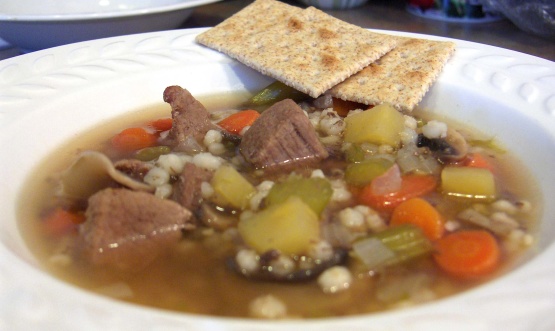 This is a quick and easy homemade beef vegetable soup.

One of our favourite soups, beef barley, this was a good one. I must say though that I changed a bit of method type of ingredients. I used fresh veggies, celery, carrots and rutabega with the mushrooms. And I used regular barley, had no quick cooking barley also use beef broth instead of water. Turned out delicious, I put the veggies and barley in for the last hour. We loved the additon of mushrooms to beef barley soup.
Place beef in a stock pan.
Pour enough water in to cover beef.
Simmer on low heat for about 1 hour.
Add all ingredients except barley.
Cover and simmer for about 1/2 hour.
Add barley and simmer for about 1/2 hour more.
Serve.