Beef, Barley and Dried Mushroom Soup
PanNan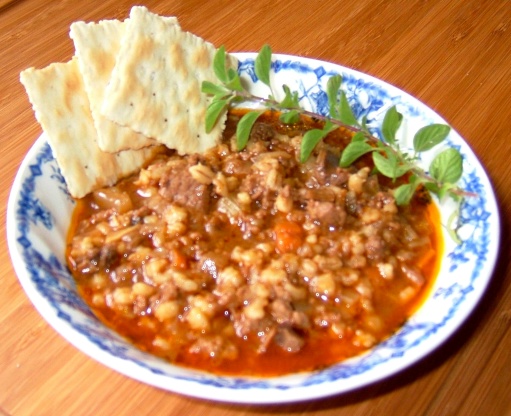 This is a (stew like)comforting, thick and hearty soup with deep, rich, earthy, smokey flavor.

Great soup. I made half a recipe using dried shiitake and fresh button mushrooms. I did add another 1/2 c. water as it was getting a bit thick for us. I did have to cook it longer than one hour for the barley to be done but the flavors blended beautifully.
Soak mushrooms in hot water to cover set aside.
In a large heavy bottom pot heat oil and saute onions, garlic, celery and carrots to slightly wilted.
Season beef cubes generously with salt and pepper then add to onion mixture to brown.
Remove mushrooms and rough cut reserve the strained liquid.
Add ground meat, chipotle pepper, and chopped mushrooms to pot and brown.
Add to the 6 cups of water strained liquid from mushrooms, Worcestershire sauce, beef base, and tomato paste stir to blend and add to pot along with the oregano and bay leaves.
Bring to a boil and simmer for 30 minutes.
Add barley and simmer an hour.
Taste and season with salt and pepper if needed.