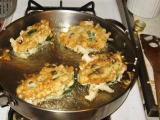 I can no longer abide the packet type au jus -- it's just too salty and the taste just seems to be off somehow. We used to spend hours baking trays of beef bones in the restaurant kitchen to make the best au jus, but who has the time (or the bones?) to do that at home? Anyway, I've been messing with alternative au jus recipes for years, to no avail until NOW. When I bake a beef roast, I elevate it above the bottom of my roasting pan/Dutch oven and then I pour in about 3/4 of a cup of water before I season the roast with salt and pepper. I rarely sear my roasts anymore because they are plenty juicy when I use this method, (e.g., 275 degrees F. for 4 1/2 hours for a 2# roast, covered). Anyway, this yields about 1 cup of drippings at the end, which I use to make my au jus. When I find a perfectly marbled roast, with not too much fat around the outside edges, I find that the drippings are excellent for this recipe because there is just enough fat in the drippings to add a good amount of flavor. In the end, you can use this au jus for anything up to, and including, prime rib -- it's just great. The key ingredients, I think, are the Mrs. Dash, garlic and herb blend, (something I just started using recently), in combination with the Kitchen Bouquet. A small amount of the latter goes a LONG way! I hope you enjoy the ease of preparation and the great flavor of this au jus as much as my own family does!
Directions
In a small bowl, combine the water and cornstarch and whisk with a fork until the blend is completely dissolved. Set aside.
In a large skillet, over medium heat, pour in the drippings, broth, Kitchen Bouquet, Mrs. Dash, and seasoned salt and bring to a boil. When it boils, whisk in the cornstarch and water mix and continue whisking until it thickens slightly and then remove from heat.
Pour this sauce over any sort of cooked beef or use as a sauce over beef and noodles.
NOTE: Sometimes beef drippings can be really salty so add the seasoned salt ONLY after tasting the sauce.
Most Helpful
I am a HUGE french dip fan and this au jus recipe is the bomb! I encourage you try it with a thin sliced prime rib, grilled sweet yellow onions and pepperjack cheese
Very useful, easy, yet delightful. I started with the juice from elk tenderloin cooked with Recipe #471181 #471181 in a 2-1/2-qt covered baking dish, used Better Than Bouillon with water instead of beef broth, omitted the seasoned salt, and added a swig of dry sherry at the end. My photo represents this juice for Recipe#468646 #468646. I had tried the dried au jus powder mix last night, and had gagged. This did not take much longer than the dry packet mix, either. However, my sauce was rather salty, so I may try More Than Gourmet's beef base in the future. Tonight we ate like royalty, it seemed.

This was great! I used Better than Boullion and water for the stock. The beef drippings were mostly fat and didn't come up to 1 cup but I used what there was.