Beef and Tater Tot Casserole
lets.eat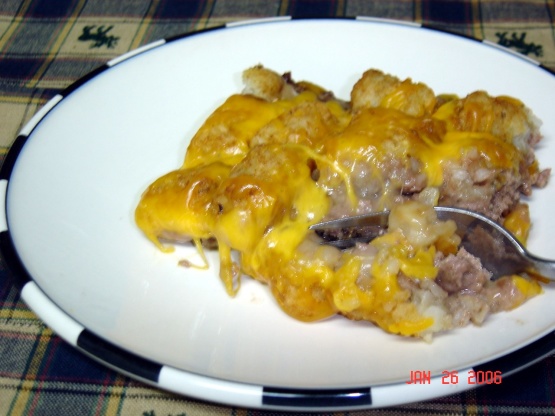 A huge hit with my family. Pre-browning the ground beef not required with this one. Slices beautifully.

VERY easy to make. I did drain the grease before adding the cheese. Used LOTS of cheese. My DH thought it was too salty, so when I make it again I will go lighter on the dry onion soup.
Preheat oven to 350'.
Press the ground beef into the bottom of a 13x9x2 baking pan. Sprinkle with onion soup mix.
Spread the mushroom soup over the top. Cover with the frozen tater tots.
Bake 50 minutes. Turn off oven. Remove casserole sprinkle with the shredded cheddar. Place back in oven, keep in oven for 10 minutes or until cheese is melted.
Take out of oven, let sit for 5 minutes before slicing.