Beef and Spinach Fritters
Luschka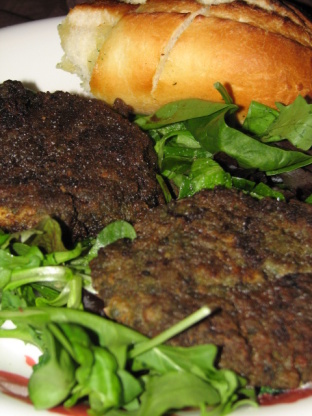 Based on a recipe from an article in Bon Appetit's May 1985 issues called "The Exciting Flavors of Tunisia" by Copeland Marks.

These meatballs were moist and wonderfully flavoursome. I moistened my bread with red wine instead of water, and I used baby spinach leaves, including the stalks which are always soft enough not to need removing. I halved the salt and doubled the garlic (personal taste preferences). Because I'm always trying to lower the fat content, I cooked my meatballs on a tray, covered loosely with foil, at a medium temperature in the oven for about 25 minutes. I also added 1/2 cup of fresh, chopped parsley in step 3. We ate these with pasta and MarraMamba's The Simplest Tomato Sauce Ever (Marcella Hazan) 273976. Loved these, mersaydees: thanks for sharing this great recipe which I know I'll make again. Made for NA*ME Tag.
Moisten bread with water; squeeze dry. Chop finely and set aside.
Cook spinach in heavy large skillet over high heat and stir until wilted. Cool slightly; squeeze dry. Finely chop.
In medium bowl, mix spinach, beef, bread, onion, eggs, salt, pepper and garlic.
Shape into 14 patties (about 1/2 cup each).
Dredge in flour, shaking off excess.
Heat oil in heavy large skillet over medium-high heat.
Add patties and fry until crisp on outside and cooked through.
Serve immediately.