Beef and Rice Soup, Mexican Style
ciao4293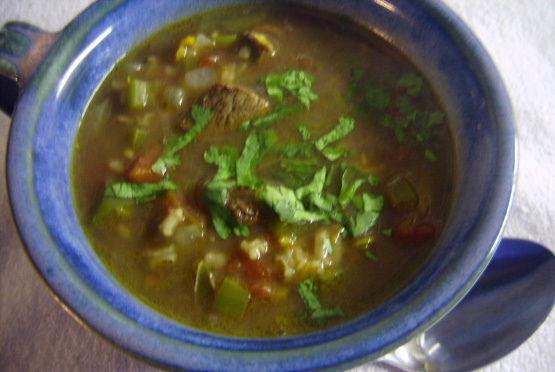 This soup is so different, yet so delicious. Easy to prepare, just do your chopping and measuring of spices first, then all you need to do is make the soup. I can't really describe the flavor, except to say that is like no other soup I've had before--very "fresh" tasting--your tastebuds will thank you! From Easy Meals, Mexican. Don't let the long list of ingredients put you off. Doing the prep first makes it easy--chopping your veggies, and measuring the spices. And don't say yuck to the orage zest, raisins and chocolate. It all contributes the wonderfully fresh, lively taste of the soup!
3

tablespoons olive oil

1

lb boneless stewing beef, cut into 1 inch pieces
2⁄3 cup red wine

1

onion, finely chopped

1

green bell pepper, finely chopped

1

small fresh red chili pepper, seeded and finely chopped

3 -4

cloves garlic, minced

1

carrot, grated (I use the large holes on the 4 sided grater, so the pieces don't "disappear" in the soup)
1⁄4 teaspoon ground coriander
1⁄4 teaspoon ground cumin
1⁄8 teaspoon ground cinnamon
1⁄4 teaspoon dried oregano

1

bay leaf
1⁄2 orange, zest of, grated

1

(14 ounce) can diced tomatoes, not drained

5

cups beef bouillon
1⁄4 cup long grain white rice

3

tablespoons raisins
1⁄2 ounce semisweet chocolate, chopped in small pieces
chopped fresh cilantro, for garnish.
Heat half the oil in a soup pot over medium high heat, add the meat and brown on all sides.
Remove the pan from the heat, and add the wine.
Pour the meat/wine mixture into a bowl and set aside, then put the soup pot back on the heat.
Add the remaining oil and let it heat for a minute, add the onions, stir and cover for 3 minutes.
Then add the green pepper, chile, garlic and carrot, stir and cover, cooking for 3 minutes.
Then it's time to add the coriander, cumin, cinnamon, oregano, bay leaf and orange zest.
Now add the tomatoes and bouillon, along with the beef/wine mixture--bring all of this to almost a boil, when it starts to bubble, reduce the heat to low and cover.
Simmer gently for one hour, stirring occasionally.
When the hour is up, add the rice, raisins and chocolate, cover again, and simmer for another 1/2 hour, until rice is tender.
(you may need to raise the heat up a bit) Ladle into bowl and garnish with the cilantro.