Ang11002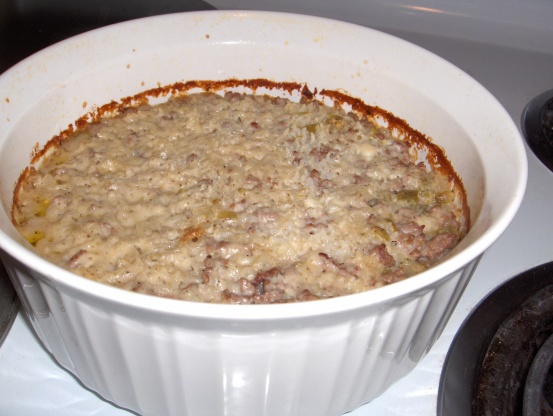 This is a super-simple concoction of my mom's, and a family favorite. Terrific with some green vegetables or a salad!

Loved it and so did my hubby and 10-yr old, who ate a frightening amount of it! ;-) I like the versatility of this recipe...you can throw just about anything into it if you have leftovers to use. I had some leftover vegetable broth and a half-can of cream of mushroom soup. It was slightly salty, but I think that was the broth's fault (even tho I reduced the salt by 1/2!) I think some leftover greenbeans would go good in this. I will definitely make this again and again! Thanks so much!
1

lb ground beef
1⁄2 cup uncooked rice

1

(10 1/2 ounce) can cream of celery soup or 1 (10 1/2 ounce) can cream of asparagus soup
1 1⁄4 cups water

1

teaspoon salt
1⁄2 cup chopped celery
1⁄4 cup onion, chopped (optional)
1⁄4 cup green bell pepper, chopped fine (optional)
Brown beef with onion (if using) and drain.
Add rice, soup, water, celery, peppers (if using), salt and black pepper, mix well.
Place in greased two-quart casserole dish and bake, covered, for 1 hour and 15 minutes at 350 degrees F.
Serve and enjoy!