Beef and Quinoa Stuffed Bell Peppers
Debbwl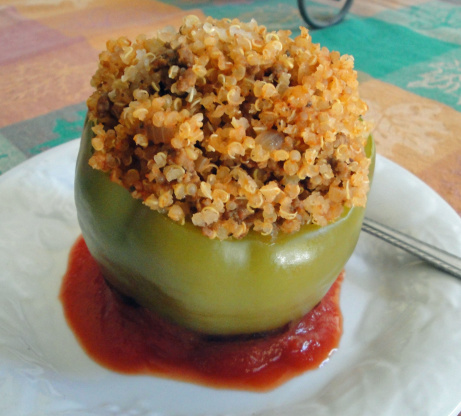 I made this recipe for a challenge in the Culinary Quest. Since I had quinoa to use up and wasn't sure what I was going to use it for, I decided to pretend it was rice. I used two other recipes to make this. The first being Quinoa-Toasted by dibs. Then prepared it like Debbwl suggested... Plain Quinoa. I hope you enjoy this dish. *Note: Prep and Cook times do not include toasting of quinoa or resting times.

Top Review by Debbwl
This had a nice light fluffy filling that had a wonderful Italian flavor. I cut this down to serve one so just kind of eyeballed the herbs and used 1/4 lb. of ground meat. The pepper was cooked perfectly and by letting it rest 10 minutes I enjoyed a nice hot pepper without burning my mouth. The only change I might make in the future is to add some kind of binder such as an egg or some cheese. But as written is nice and healthy and very tasty. Thanks for the post.
Bring 2 cups water to a boil in 2 quart sauce pan, add toasted quinoa.
Return to a boil and cook over medium heat for 12-15 minutes until water is absorbed.
Remove from heat, fluff with fork, cover and let sit 15 minutes.
Pre-heat oven to 350* F.
Heat olive oil in skillet over med heat and add diced onion. Saute approx 3 minutes.
Add ground beef to skillet and cook until browned.
Meanwhile, cut tops off bell peppers (reserving tops), remove seeds and membranes.
When beef is browned, add the oregano, basil, salt, pepper and 1/2 can of tomato sauce. Mix well and gently add in cooked quinoa. Heat 1 minute.
Pour and spread remaining tomato sauce into the bottom of an 8x8 casserole dish.
Stuff meat and quinoa mixture into bell peppers, loosely add tops and place in dish.
Bake uncovered for approx 30 minutes, or until peppers are tender. Remove from oven and let rest 10 minutes.
Serve and enjoy!