Zurie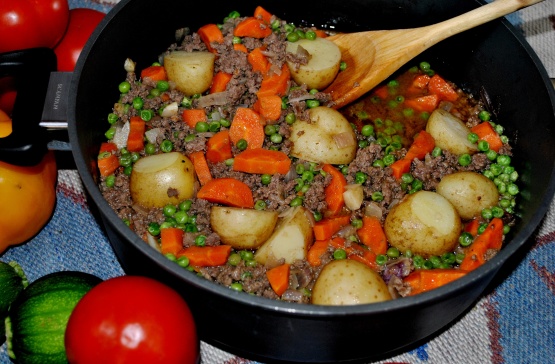 A hearty simple recipe cooked on the stove on those cold winters nights in many UK homes. More often than not this would be made with "old" potatoes peeled and cut into chunks but this time I've give it a little twist by using new potatoes.

Top Review by Zurie
MADE FOR PAC, March 2011. Dear AskCy, this recipe is very hard for me to review. As my adopted cook, I'd love to give you 5 stars for every recipe!! This one made it to "good" (3 stars). It is perfectly nice, very easy, real comfort food, but the taste is very ordinary. Normally I would have added lots of herbs and maybe chillies, but I wanted us to taste your recipe as you wrote it. AskCy, maybe my biggest problem is with your cooking method, and I wonder if you'd consider editing your recipe? The litre of beef stock would have been FAR too much: I added 1 cup! (250 ml). (Did you make a mistake with that litre?) In the photos you can hopefully see 250 ml was enough, as the veggies also shed some liquid. I also have a problem with your cooking times. No ways could I cook this dish, after adding the peas, "for a good hour"!! I added the peas once the baby potatoes was almost tender, and it took literally minutes for the peas and potatoes to be perfect after that, and I removed it from the heat. A small point, but maybe worth mentioning for the 5-star recipes you are still going to post for us: list your ingredients in the order in which they will be used, i.e. oil first. The title: it puzzled me a little (this is not a criticism!) as we would never call a mince dish a "stew". One associates a stew with chunks of meat. But never mind that. Also, this dish, with rice and sides, will feed at least 4 - 6 hungry people! Very economical in these times. Thank you, AskCy, and please post more of your recipes!
Gently soften the onions in a large deep pan.
Add the carrots and allow to soften a little.
Add the beef and allow to colour.
Stir in the chopped garlic, pepper and celery salt cooking in for a minute.
Pour in the Worcestershire sauce.
Add the potatoes.
Add the peas.
Add the stock and simmer for a good hour (the longer the better).
To thicken the gravy, mix cornflour with a little cold water and mix into a paste, add this into the gravy.
Often served with extra vegetables and pickled red cabbage or beetroot.