Prep 20 mins
Cook 30 mins

This is certainly not true to the original moussaka ingredients, but it is still very good.
Directions
Cut the potatoes in quarters and boil in water until almost soft.let cool, then slice into 1/4 inch slices.
Heat the oil in a large skillet, and saute the onion and garlic for 4-5 minutes.
Add the beef to the skillet and brown for 5 mins, stir in the wine, tomato paste, oregano, and parsley, reduce the heat and simmer for 15 minutes Remove from heat.
To make the sauce, melt the butter in a small saucepan. Stir in the flour and cook over low heat for 2-3 mins.Slowly whisk in the milk, cooking for 6-8 mins until thickened. Remove from the heat and add the parmesan.
Grease an 11x7 inch casserole.Put in the beef mixture, then cover with potato slices.
Pour the sauce on top.
Mix together the parmesan and breadcrumbs and sprinkle over the top of the casserole.
Bake in a 350 * oven for 30 mins or until golden.
Most Helpful
For some reason my family didn't like this much. NOTHING wrong with the recipe - just not for us. Thanks for posting.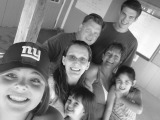 I liked this moussaka very much. Even my significant other who was very skeptical about the recipe liked it. Thanks for sharing! :-)

We loved this different take on Moussaka. The blend of flavors was very nice and the wine added to the richness of the meat mixture and the sauce really topped it off! Great one!