Beef and Pineapple Kebabs (Anguilla)
Satyne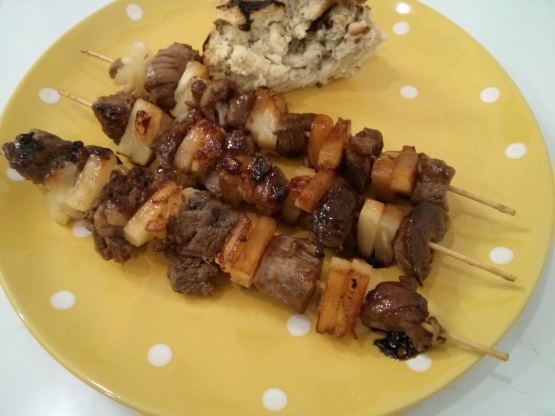 This recipe is from week nine of my food blog, "Travel by Stove." I am attempting to cook one meal from every nation on Earth, and Anguilla is my ninth stop. This dish is seasoned in a simple marinade and cooked on the grill or under the broiler.

Top Review by Satyne
These were quite nice, although the contrast between the meat and the pineapple was a bit sharp for me to LOVE the dish. I know it wouldn't be traditional to go adding things to the recipe, but it could have really used an extra something, like onions to help balance out the flavours. Made for My Food Odyssey October 2013
Cube the beef into 1-inch chunks.
Combine the molasses, pineapple juice and vinegar and marinade the beef chunks in the mixture for about an hour.
Cut up the pineapple into equal sized chunks (you could also use canned chunk pineapple) and thread onto skewers with the beef.
Drizzle the remaining marinade over the skewers and grill over a hot flame or cook under your broiler.