Beef and Peppers in Hoisin Sauce
Vyrianna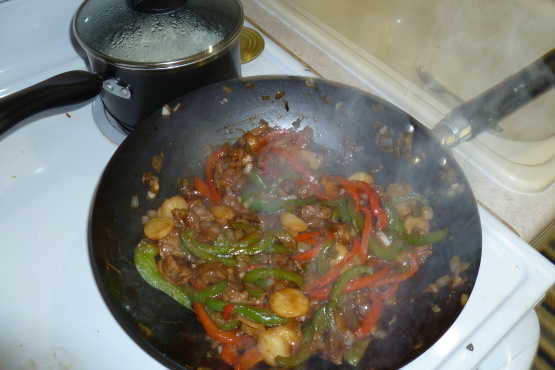 This recipe has been setting my Private Recipes box so long I can't remember were I got it. It's another great recipe you can make in a short amount of time!

I found this recipe to be fairly easy and delicious. Unfortunately DH does not like anise which is part of the Chinese Five Spice. Therefore while I would recommend it, it's not something we're going to make again here as it stands. I'm thinking about trying it again, once I figure out a replacement for the Five Spice. I'd probably use less peppers as well since DD prefers her peppers raw to cooked.
Heat the oil in a wok or large frying pan.
Stir fry beef until brown lightly.
Add peppers, onion, and stir fry for two to three minutes.
Add seasoning, water chestnuts, garlic puree, hoisin sauce, and stir fry for 1 minute.
Add the corn starch to beef broth.
Slowly stir the broth into the stir fry to thicken.
Serve over rice or noodles.