diner524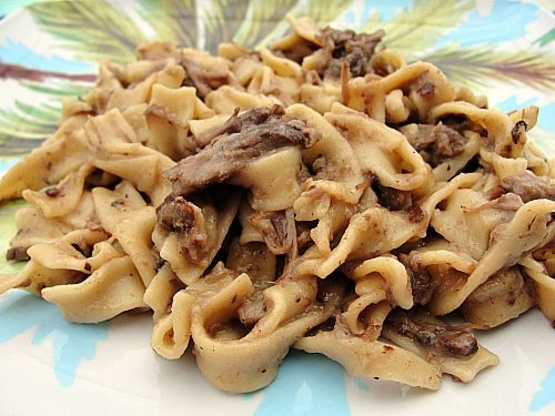 I was looking for a recipe for beef and noodles that didn't use any sort of condensed soup. I found one at Better Homes & Gardens and made a few changes to come up with this. I use Homemade Noodles (recipe 27344) for the noodles, and they absorb a lot of liquid so this is pretty thick - if you like it thinner, adjust accordingly (I've not tried this with purchased noodles but they may make a difference as well).

I have this recipe cooking on the stove right now. I haven't made beef and noodles before so I was anxious to try this recipe. It is YUMMY. Thanks for sharing. I followed the recipe except I substituted Oregano for marjoram. I also sipped on a glass of wine after I opened the bottle to add to the beef and noodles. I will definitely make this again & I recommend this to anyone who wants some delicious beef and noodles!!
Add oil to a large dutch oven over medium heat.
Sprinkle the flour over the meat and toss to evenly coat cubes with flour.
Brown half of the coated meat in hot oil. Remove from pan. Brown the remaining meat and remove. Set aside.
In the same pan, brown the onion and garlic, adding more oil, if necessary. Drain off any excess fat. Return all meat to the pot.
Stir in the broth, wine, marjoram, and pepper. Bring to a boil; reduce heat. Simmer, covered, for 1-1/2 to 2 hours or until meat is tender.
When meat is tender, remove with a slotted spoon and set aside to cool briefly.
In the meantime, stir noodles into broth. Bring to a boil; reduce heat to low.
Shred beef and add back to pot with noodles.
Cook, uncovered, for about 30 minutes or until noodles are tender and mixture is thick. Add additional broth or water if necessary (if noodles are absorbing it all).