Beef and Mushrooms in Red Wine Sauce
ImPat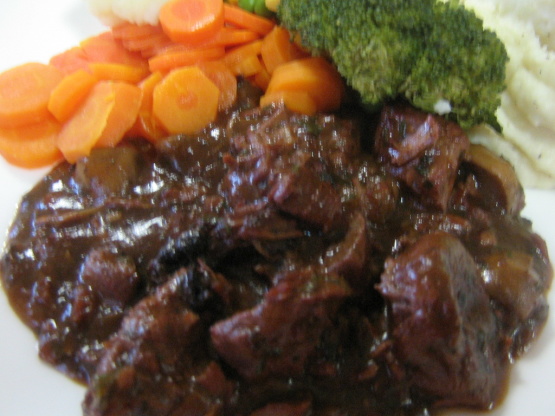 This is a great hearty, warming stew ideal for the coming winter months. When the weather starts to get cold I love nothing more than stews and casseroles whether beef, chicken or fish they make great comfort food. I served mine with broccoli florets as we are trying to eat lower carb in the evening.

Top Review by ImPat
I went down JustJanS's path but for us it was still way too salty (except to the DM - don't think anything could be too salty for her) other than that it was beautifully tender and full of flavour and very rich and with mashed potatoe and steamed brocolli, carrot and cauliflower I think I really had enough meat to feed 6 - DH now has some for shift work meals. Next time I think I will go with a low salt beef stock (in place of the water) and then thicken with cornflour (the Bisto - yes I was able to purchase Bisto - thickened it almost instantly to the point I had to add 1 cup of hot water to thin it down to incorporate the mushrooms and shallots - I had quartered to shallots to try and keep them large so the DH could pick out due to his allergy to onion, think I will stick with small brown onions and cut in large pieces to overcome this, sorry but don't think the shallots are worth the extra cost in this case). Thank you The Flying Chef, made for Edition 7 - Make My Recipe.
Cook bacon in a large heavy based saucepan, stirring, until browned, drain on absorbent paper.
Add oil to a large fry pan, add beef in batches, cooking until browned all over, add beef to saucepan, wipe fry pan clean for later use.
Return bacon to saucepan along with wine, paste, water, stock, garlic and thyme sprigs to saucepan, bring to the boil, reduce heat, simmer covered for about 21/2-3 hours or until beef is tender.
Meanwhile, melt butter in the fry pan add shallots, cook until browned and starting to soften, add mushrooms, cook, stirring about 7-8 minutes until mushrooms are soft, remove from heat.
Add gravy granules to beef mixture stir until sauce thickens slightly (I use the gravy granules to thicken and to add extra beefy flavour, can thicken with cornflour, but may want to adjust stock amount.).
Stir in parsley and add shallot mushroom mix to the stew, leave on a low heat.
Meanwhile boil, steam or microwave broccoli until just tender.
Serve stew accompanied with broccoli.
Carb Tip: goes well with creamy polenta or mashed potato.