Beef and Green Chili Soup! Sure to Warm You Up!
Cindy W.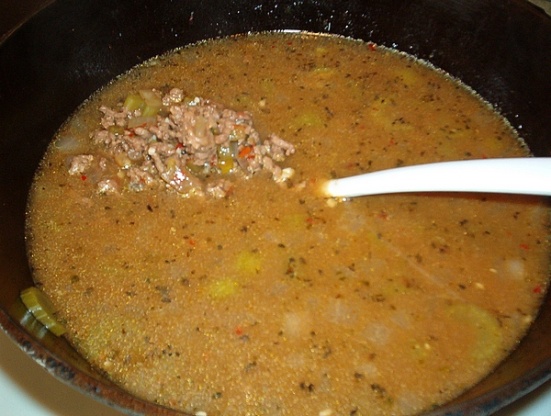 It's the season for SOUP! Here is an outstanding Recipe, that originated in a Ski Lodge in Montana. The flavor combinations are amazing and it is now one of our NEW Favorites.

This was very good soup. If I make it again I will cut back on the amount of macaroni. I doubled the spices as the other reviewer suggested since we also like a lot of heat. Thanks for sharing this recipe!
Zaar will not let me enter the Green Chilis amount! Please note, it is 1 can (4,5 oz.) chopped gtreen chilis, undrained. :-).
Heat a large Dutch-oven over meduim-high heat.Add beef and cook until browned, stirring to crumble.Remove beefand set aside.Add veggies to pan and cook until tender.Add spices and garlic.Cook 1 minute to combine.Return beef to pan.Ad broth and Chilis.Bring to a boil. Add maccaroni and reduce heat to simmer. Cook about 8 more minutes until noodles are done.
Yield 6 1cup servings.
HINT: I boil my noodles separately and add them to each serving! That way leftover soup when reheated does not have gummy/loppy noodles in it! :-).