PanNan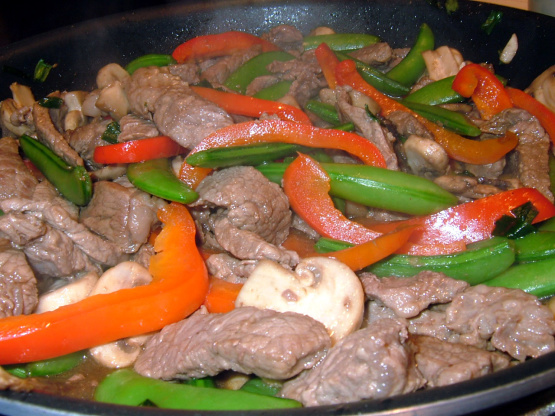 This is from the Garlic Lover's Cookbook, another recipe tried and loved. Thank you MichEgan for this delightful book Cookbook Swap 2007. This is a very simple dish to make for a weekend or weeknight dinner. Can be dressed up for company without much fuss. A very adaptable recipe. Aromatic and delicious!

This was very good, a quick and easy stir fry. next time i will use more garlic bc even though it seems like more than enough it got a little lost in the sauce (but then im a garlic fanatic)
Mix beef and garlic and let sit for 10 minutes. Sauté beef and garlic in a nonstick pan sprayed with vegetable oil.
When beef is done, remove from pan.
In same pan, sauté green onions and bok choy until vegetables are tender.
Return beef to pan and add soy sauce, oyster sauce, beef broth, and tomato wedges and cook for 3 minutes, med high. (varies depending on pan size, fuel, thickness of pan).
Season with salt and pepper to taste.
Great served over rice, noodles or alone with a side.
I have also made without bok choy and used slice green peppers and water chestnuts, baby corn. As I said, very versatile.